The Soul Reflection Cosmic Energy Oracle Deck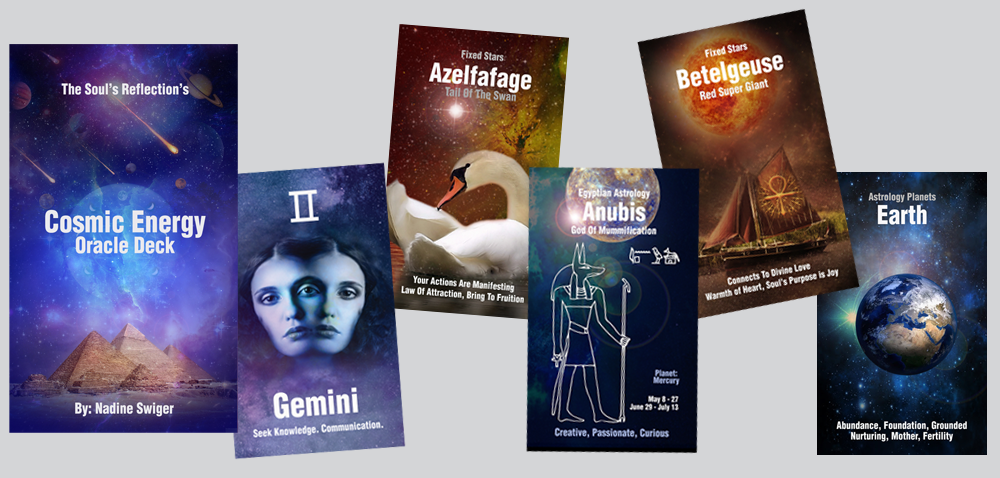 The Soul Reflection Cosmic Energy Oracle Deck
Price: $55.00
90 card deck
Casino-quality
Black core
Linen finish
Easily shuffle and slide
Tarot Size (2.75"X4.75")
This 90 card deck is based on the Cosmic energy of our galaxy. The Planets, Stars, and cosmic energies have sway over our daily lives. The Ancient Egyptians tuned into the Cosmic Energy of the Universe for Magick, Rituals, and Planetary Healings. The Soul Reflection's Cosmic Energy Oracle brings forth those galactic energies. Let it be a tool to helping you to connect to the energies of the Moon, Planets, Fixed Stars, Comets, Meteorites, Black Holes, and Supernovas to enlighten, heal, and support you on your Spiritual Journey.
The Cosmic Energy Oracle has five sections: Moon Healing, Astrology Planets, Fixed Stars, Western Zodiac, and Egyptian Astrology. Each section may be an indication of a time frame. All cards have key metaphysical meanings to allow you to use as a straight oracle deck. You may also split the cards up into their sections to do more in-depth readings.
Moon Healings, can be used to do Shadow work or inner healing.
Astrology Planets, Fixed Stars, and both Zodiac (Egyptian/Western) can be combined with Astrology principles. Cards may be drawn together to represents the energy of when those planets and stars align. The Zodiac cards can also be used to represent a person, who is born under the sun, moon, or rising signs, or it may represent the characteristics and traits associated with the sign.
This is the first deck of our Egyptian series.