The Soul Reflection Past Life Love & Relationships Oracle Deck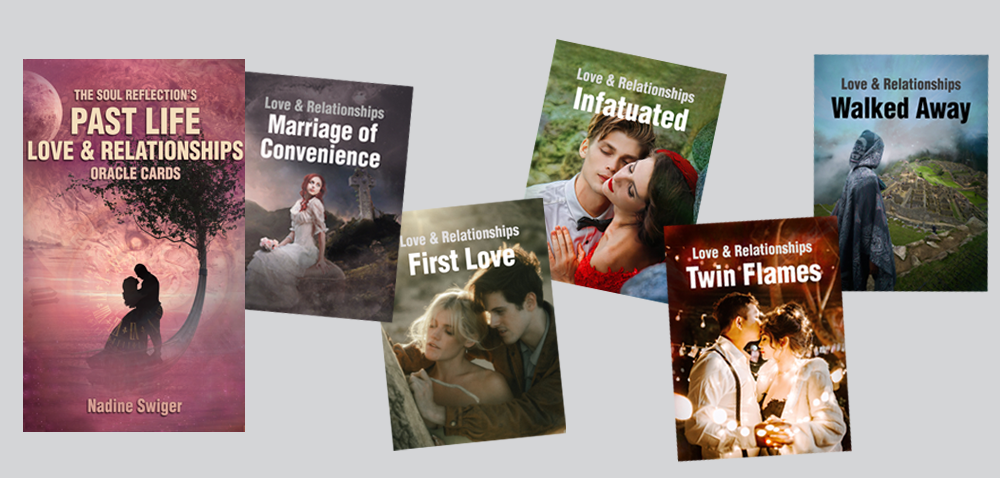 The Soul Reflection Past Life Love & Relationships Oracle Deck
Price: $44.00
72 card deck
Casino-quality
Black core
Linen finish
Easily shuffle and slide
Bridge Size (2.48"X3.46")
Have you ever run into someone you have never met before, and you immediately felt a strong connection to? Do you feel drawn to them but don't know why? Perhaps the opposite has happened, where you felt a sense of hate or anger that didn't make sense? These are all signs of past life connections.
Many times we reincarnate with the same souls. You can use The Soul Reflection's Past Life Love and Relationship Oracle to discover how you were connected in another lifetime. They may have been a lover, soulmate, family member, coworker, friend, or even a false twin flame.
This 72 card deck will help you tap into your Past Lives Relationships. Cards feature different kinds of marriages (Arranged Marriage, Marriage of Convenience, Marriage of Love, and more), types of love (First Love, Unconditional Love, Selfish Love, Obsessive Love, Casual Lovers, Secret Lovers, and more), types of loving connections (Family, Co-Workers, Friends, Siblings, Kindred Spirits, Soul Mates, Twin Flames, False Twin Flames, etc), issues of Love (Broken Promises, Betrayal of Love, Conflicts, Divorce, Co-dependent, Abuse, Unspoken Feelings, Left at the Altar, and more), and roles in love (peacekeeper, caregiver, protector, etc). Use the cards to see how current connections were in a Past Life and predict how your future connections will play out.